A Wedding That Dreams Are Made Of!
Updated: Jan 8, 2020
How do you fancy getting hitched at the UK's oldest amusement park? A place where the likes of The Who and the Rolling Stones have performed?
The pride of seaside town Margate, Dreamland has been hosting fun and smiles since 1920. This retro-tastic wonderland is so much more than an amusement park and includes thrilling rides, a roller disco, amusements, food and drink and all the fun of the festival! And in my opinion, it is just the perfect wedding venue for the fun-loving couple who just want their day to be about celebration and having a good time!
So as the creator of the Quirky Wedding Fayre, I knew that Dreamland was one of the venues I absolutely had to hold a fayre at! And after 9 months of planning, we're just two weeks away from it! I'm super duper excited!
To start the rollercoaster of a fayre, there will be Prosecco (for those of you that pre-register) courtesy of the awesome Booze Hounds and their converted trike! Followed by a yummy Candy Floss bar by Let Them Eat Cakes and temporary tattoos from Doris Loves! While browsing you can enjoy LED hulla hoop performances from This Bean Spins, admire the balloon installation from Sweet Cheeks Parties and soak up the atmosphere created with the perfect lighting from Chilli Productions.
So for those of you who like me are too excited to wait until the actual fayre, here's the low down on who else will be joining us!
Photographers & Videographers
The funky Florence Berry Photography
The sophisticated Zibi Photography
The amazingly fun Jeanie Jean Photography
The super cool Joe Josland Photography
The seaside-loving Colin Sherlock Photography
The natural and talented Film Our Day
Cake & Dessert Makers
The geeky, fun-loving Bake to the Future
The wacky Little Brown Fairy Cake
Transport
The spectacular VW from Retro Rides 4 Brides
The retro-tastic Morris Minor & Jag from Molly's Classic Wedding Cars
Stationary & Signage
The calligraphy-tastic Boards by Jess
The super sophisticated Design.Love.Create
Photobooths
The modern and retro mix of Booths of London
The adorable festival vibe of The Little Horse Picture Booth
Plus all this wonderful quirkiness...
The Panic Room - mobile escape rooms for your wedding!
Doris Loves - temporary tattoo stations and funky decor!
Cat O'Connor - writes your own wedding song for you!
Le Keux Vintage Salon - vintage makeovers for your big day or hen do!
Matchimony - wedding and bridesmaids dresses in all the colours of the rainbow!
Miss Ava's Millinery - handmade gorgeous hats & fascinators!
Rings Rock - bespoke wedding ring service!
Pop & Floss - popcorn, candyfloss and prosecco all in one!
The VRVE - virtual reality fun for your wedding (yes, you read that right!)
Luxurious Glitter - sparkle-tastic glitter bars!
And our fabulous sponsor for this event is Unconventional Wedding! Check them out for all of your quirky wedding needs!
So there you have it! This is my Quirky Wedding Fayre crew for Dreamland and I can't wait for you to meet them! If you haven't done so already, please do pre-register so you can enjoy some prosecco and a goody bag!
For those of you tempted by a Dreamland Wedding there will be tours available and the Dreamland events team on hand to answer all of your questions. It might not be seaside weather but in true British style, we will be there and celebrating come rain or shine! - Well the fayre is indoors so of course we will but I couldn't end this post without making a British seaside weather joke!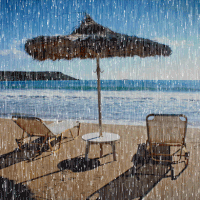 Looking forward to seeing you there!
Lily x